Second Draft Off to My Alpha Readers
All of you who read my novel, Bodacious Creed: a Steampunk Zombie Western, should be happy to know that I have finished the second draft of the sequel, Bodacious Creed and the Jade Lake. I sent it off to my alpha readers, and as soon as they've read it and given me their thoughts, I'll get to work polishing the book up. Once it's just about done, I'll have my beta readers give me their comments, then a bit more editing, then I'll order the cover art and send it to my line editor. Next, I'll publish it! My plan is to have it out in or around July this year.
And Now
The third book in the series will be Bodacious Creed and the Frisco Syndicate. Since I'm now waiting for my readers, I'm starting the process of outlining the new book today. I've taken down another one of my Hero's Journals for the new novel. I know I've mentioned before that I've begun using one for each book I write. Even though I'm only on Act 2 of the journal for Jade Lake, I am getting started on Frisco Syndicate. So, that means I'm on two quests at once.
I also have two short stories to write, at least, so I plan to get those done before my alpha readers finish reading that second draft of Bodacious Creed and the Jade Lake.
My Raffle Item
I made this Bodacious Creed bust! I modified a Hero Forge miniature of Creed, printed it in resin, painted it, and now it's up on one of my bookshelves.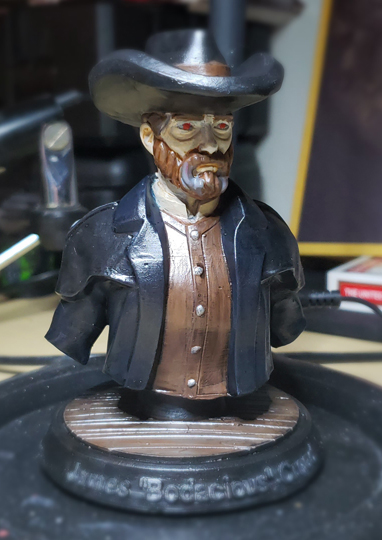 When I sell books at future conventions, I plan to raffle off one of these. People will get tickets based on how much they spend on my books and whatever other merchandise I'm selling.
That's it for today! I wish you the best in all your own creative endeavors.
Oh yeah, and if you haven't read Bodacious Creed: a Steampunk Zombie Western yet, now's a good time to get it with the sequel coming out in three or four months!
"Never trust anyone who has not brought a book with them." ~ Lemony Snicket