Jonathan Fesmire is a happy author of speculative fiction. While he loves a variety of genres, including high fantasy, hard sf, and superheroes, the niche steampunk western genre has a strong grip on his imagination. Hence, the Creedverse was born.
A single father, Jonathan lives in California with his son. They enjoy going to movies, to Disneyland when possible, and play guitar together most evenings. Early in the covid pandemic, Mr. Fesmire took up the hobby of resin 3D printing. He enjoys printing, and painting, miniatures and dice towers when he has the time.
As an author, one of his goals is to write and publish at least one novel per year, and with "Bodacious Creed and the San Francisco Syndicate," he's come close.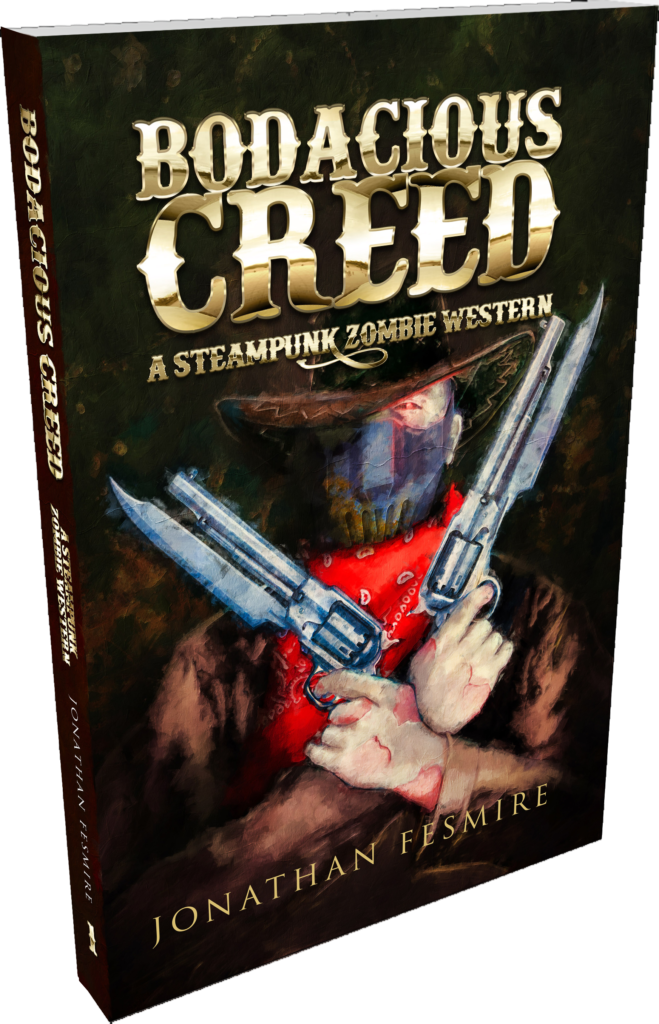 Visit the World of Bodacious Creed!
Start with The Adventures of Bodacious Creed Book 1! Or, purchase the entire trilogy!
U.S. Marshal James Creed has known loss, starting from the untimely death of his wife and daughter in a sudden fire. His work, chasing down and arresting outlaws across the Wild West, is all he has to live for. Then one day, in 1876, the infamous killer Corwin Blake catches Creed by surprise and guns him down.
Creed awakes after a mysterious young woman resurrects him in a basement laboratory beneath a brothel. Half alive, Creed feels torn between his need for justice and his desire to fall back into the peace of death. Creed's instincts drive him to protect the city of Santa Cruz, California, from the outlaws it harbors while searching for Blake.
He uncovers a secret criminal organization, likely protecting Blake, determined to use resurrection technology for its own ends. The former marshal, now faster, stronger, and a more deadly shot than ever before, must work with a brothel madam, a bounty hunter, and the remaining marshals to uncover the criminal syndicate before they can misuse the machines of rebirth and create more mindless zombies. Meanwhile, he must also stop Blake, before the outlaw kills the only people he cares about.
His own death can wait.
Bodacious Creed: a Steampunk Zombie Western is available at Amazon and Audible.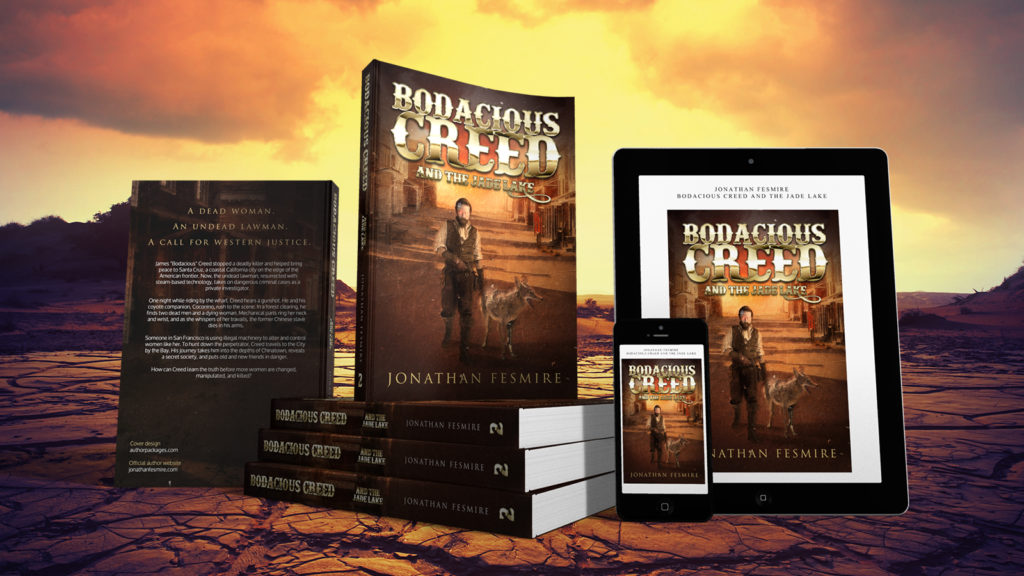 Bodacious Creed and the Jade Lake
The Adventures of Bodacious Creed Book 2
James "Bodacious" Creed stopped a killer and helped bring peace to Santa Cruz, a coastal California city on the edge of the American frontier. Now, the undead lawman, resurrected with steam-based technology, takes on dangerous criminal cases as a private investigator.
One night while riding by the wharf, Creed hears a gunshot. He and his coyote companion, Coconino, rush to the scene. In a forest clearing, he finds two dead men and a dying woman. Mechanical parts ring her neck and wrist, and as she whispers of her travails, the former Chinese slave dies in his arms.
Someone in San Francisco is using illegal machinery to alter and control women like her. To hunt down the perpetrator, Creed travels to the City by the Bay. His journey takes him into the depths of Chinatown, reveals a secret society, and puts old and new friends in danger.
How can Creed learn the truth before more women are changed, manipulated, or killed?
Bodacious Creed and the Jade Lake is available on Amazon and Audible .
Bodacious Creed
and the San Francisco Syndicate
The Adventures of Bodacious Creed Book 3
Investigator James Creed has finally settled into life in San Francisco with his found family, the Brotherhood of the Golden Cog. Though he misses his adult daughter, he has a criminal leader to track down—an outlaw who murders innocents, enslaves the downtrodden, and uses machines to alter the bodies and minds of his many victims.
Months ago, the leads dried up. Creed despairs of ever collaring his enemy, the infamous outlaw Maxwell Gregg, until he spots an illegal automaton on Christmas evening. It's exactly the sort of technology his nemesis deals in.
The clues keep coming. Mechanically enhanced women stalk the red-light district of the Barbary Coast, and a young rancher leads Creed to the site of a mass grave. Known members of the Evil Eye Syndicate are spotted during the day.
Creed gains an unexpected ally—the mysterious Dockside Poltergeist, a vigilante who stops kidnappings and murders along the Barbary Coast. Now, the two are intent on Creed's target. But, time is running out and there are dark forces also hunting the undead investigator—forces intent on putting him back in his grave.
Can Creed stop his nemesis before the outlaw catches up to him?
Bodacious Creed and the San Francisco Syndicate is available on Amazon and Audible.
"Wild ideas beautifully scripted, Jonathan Fesmire proves he is writing for a large audience – even if he must recruit them into steampunk." –Grady Harp, Amazon Hall of Fame Top 100 Reviewer
"It's the perfect blend of steampunk, hard-boiled pulp, and gritty realism, of Louis L'Amour, Stephen King, and a scosche of Douglas Adams. The best steampunk horror novel you'll read this season."–Eric Fisk, The Fedora Chronicles
"…a thrill ride full of fabulous machines, sharp corners, near misses, captures, escapes, zombies, zombie animals, and equal opportunity baddies — females as well as males engaging in mayhem." –Lee Killough
"Nothing new under the sun? NOT true. Here, originality certainly takes the cake AND pops you in the face with it." — L.A. Veronie II