Hello everyone!
It's been quite the adventure recently, one that took us on an epic journey to the hub of pop culture – San Diego Comic Con 2023. As a fervent fan of all things comic, fantasy, and science fiction, this experience was amazing. Today, I'm excited to share the magic of my journey, the unforgettable moments, and the treasure trove of memories my son and I collected along the way.
It was only two days at the bustling, energetic San Diego Comic Con, but boy, did it leave an impression. This was not just an event, it was a whirlwind of experiences, a mecca of creativity, a platform for the ingenious minds of our era, and a space where fantasy comes to life.
The Journey to San Diego Comic Con 2023 Begins: Thursday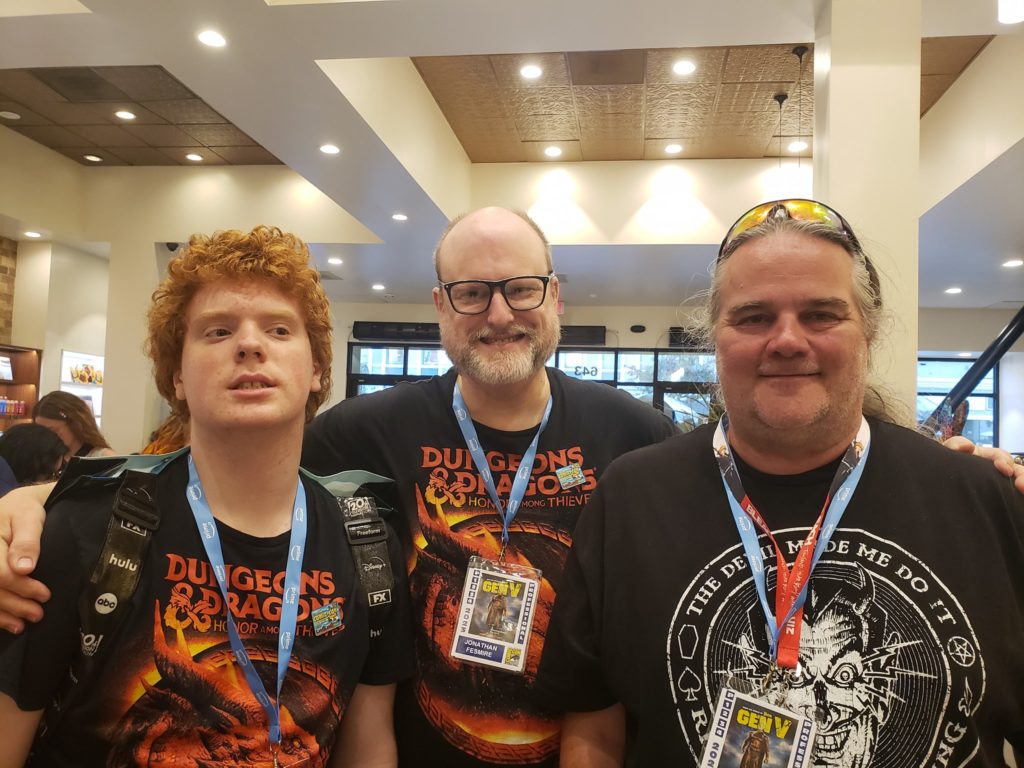 Our adventure kicked off on Thursday, July 20, with meeting my long-time friend, Kevin Andrew Murphy. With 15 years (or so!) since our last face-to-face encounter, it was a heartwarming reunion. We headed to an Irish pub for a hearty meal before indulging our sweet tooth at Ghirardelli Square. The day concluded with the Comic Legal Defense Fund party, where another friend, Russell Nohelty, made a welcome appearance. Both Kevin and Russell are talented writers who breathe life into their characters and stories, making the worlds they create compellingly real.
Friday's Frenzy: The Weird West Panel
Friday was a whirl of excitement as I got to participate in the "Welcome to the Weird West" panel. I found myself surrounded by talented authors, each with their unique perspective on this intriguing genre the group of us have chosen for our stories. Post-panel, we headed to the autograph hall for signings. It was here I got to meet readers and fans, a humbling experience that reminded me of one reason I write – to connect with you all!
The Dealers Room, or The Exhibition Hall?
In any other convention, it'd be the dealer's room, but the enormity of the exhibition space at SDCC seems to call for a grander title. Yes, those of us who've been to a lot of smaller cons still called it the dealers room. Here, however, it's officially known as the exhibition hall. It was breathtaking, and gigantic. Hearing about it doesn't prepare you for the enormity of this place. A guidebook and the Comic Con app helped us navigate the space, leading us to books, merchandise, and fascinating people.
Treasures Galore: A Shopping Spree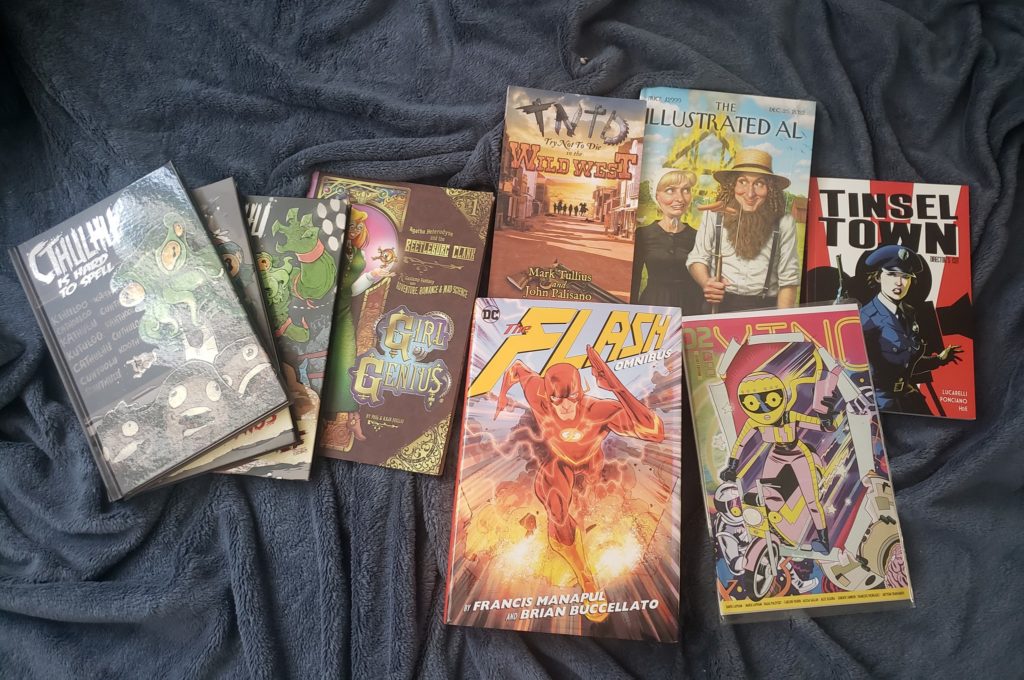 SDCC wouldn't be complete without bringing home souvenirs. From graphic novels to tees and dice sets, we found treats for both my son and me. I traded a copy of the first novel in my steampunk zombie western trilogy, Bodacious Creed: a Steampunk Zombie Western, for Phil Foglio's first Girl Genius graphic novel. I've been a fan of Phil for a long time and was delighted to meet him in person. I also got to meet David Lucarelli, author of Tinsel Town. I purchased Russell Nohelty's Cthulhu is Hard to Spell series, and bought my son a huge, hardcover The Flash omnibus. (He loves graphic novels!)
Cosplayer Encounters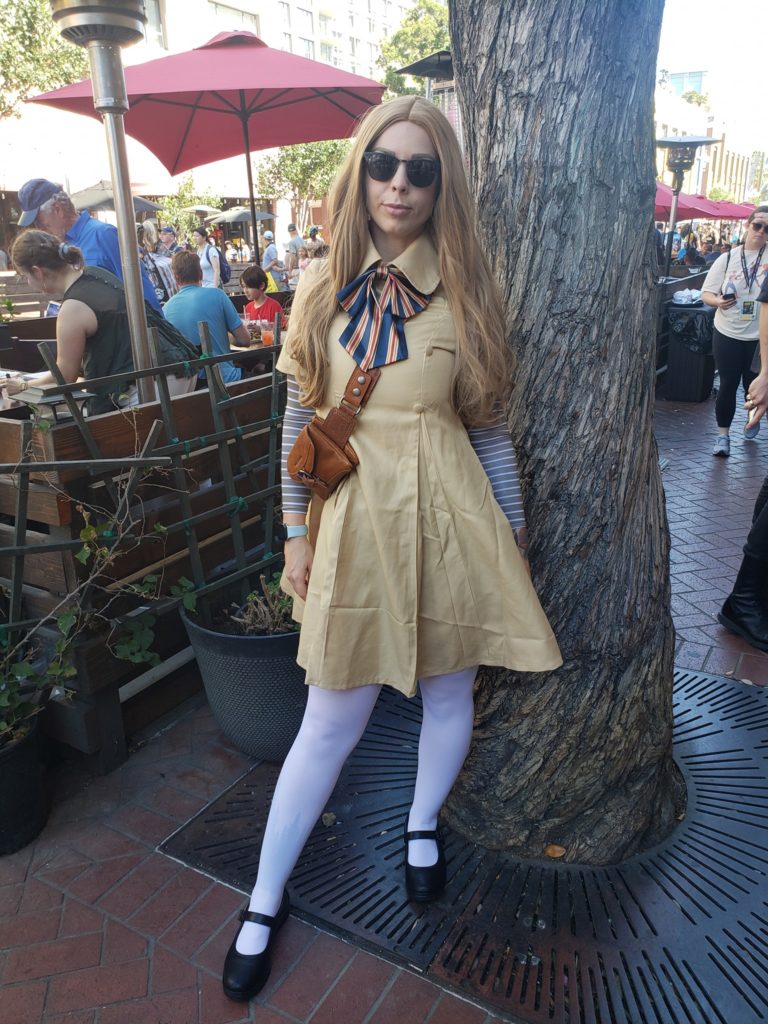 Among the whirlwind of experiences, the sight of cosplayers brought the characters we all adore from page and screen to real life. Although I didn't manage to capture many, I snapped a few pictures that encapsulate the incredible creativity and passion in the cosplay community.
Looking Ahead: Future SDCCs
Having had a taste of the SDCC experience, I am eager for more. I've applied for a pro pass for future years, and though I'm uncertain about the process, I'm keeping my fingers crossed. The opportunity to immerse myself in this fantastical realm again is too enticing to pass up!
Closing the Chapter
And so, our journey at San Diego Comic Con 2023 ended, leaving us with memories to cherish and experiences to look back on fondly. I hope this recounting brought you a piece of the magic that is Comic Con.
"If the world was a bit more like Comic Com, we'd all be a little happier." ~ Matt Smith\
Finally, here are some pictures from our panel, taken by Jason Liu.