bodacious creed and the jade lake
The sequel to Bodacious Creed: a Steampunk Zombie Western, and the second novel in my series, The Adventures of Bodacious Creed, is out! Yesterday, August 7, 2021, was release day.
This is something I need to document, so here I am!
Yes, Bodacious Creed and the Jade Lake is out, available on Amazon in Kindle and trade paperback formats, available for Nook on Barnes & Noble's site (and hopefully trade paperback soon… I'm working on it…), and available from other sellers like Apple and Kobo. It's up on Goodreads, too, and has already earned several glowing reviews.
Here's the cover, by Mark Reid at Author Packages. I love this and look forward to working with him again.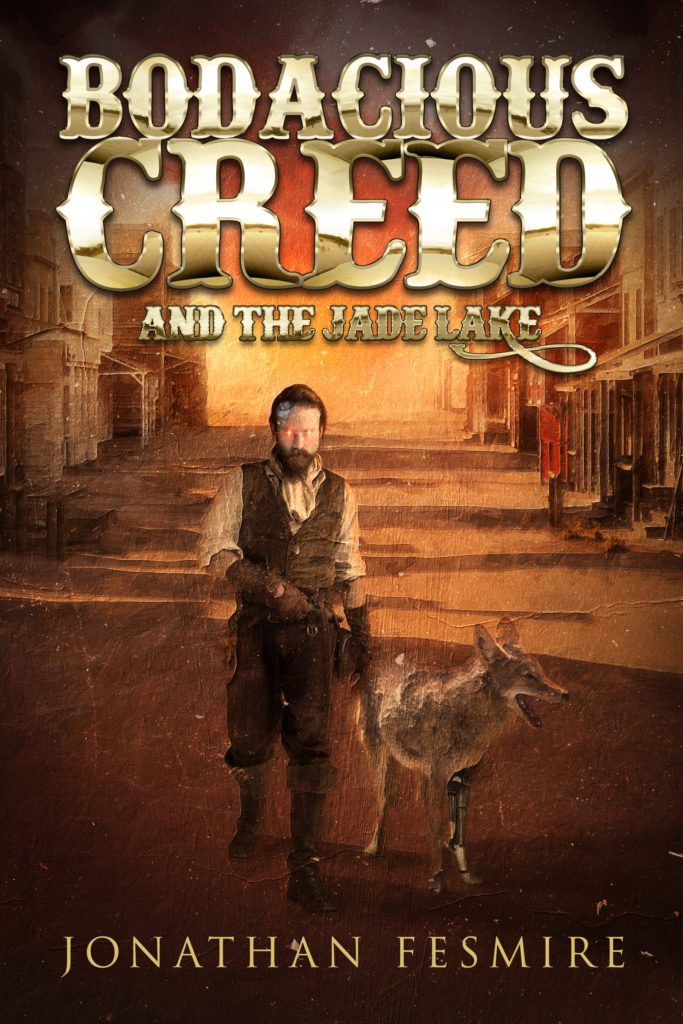 Party!
I ran a release party yesterday on Facebook, something I first did for Bodacoius Creed: a Steampunk Zombie Western. When that book came out, I shared information and images related to the book, but I also shared a lot of steampunk and western memes. For the Bodacious Creed and the Jade Lake party, everything I shared was from the books and my world, the Creedverse. I have so much material now, including realistic drawings of my characters.
Three people won trade paperback copies of Bodacious Creed: a Steampunk Zombie Western. Yes, I do prizes! If you
Every writer works differently. If you've been writing long, and studying your craft, you already know that, but I wanted to preface this post with that fact. The correct way to write is what works for you.
Over time, you'll refine your methods. You'll try different techniques, find new tools, and if you do it well, you'll keep getting better.
It can help to know how other writers work. My own method has been evolving, and I figured I'd outline it here. If this helps you, great!
Check out the party page. Yes, it's over, but I think you'll enjoy the posts.
book 3
Almost immediately, in the AMA thread I set up for the party, someone asked when Book 3 comes out. Some authors find this frustrating, because we put a lot of work into one book, but readers get through them in a day or so and want the next one! I found it gratifying though that someone asked.
I had planned to release the third book, Bodacious Creed and the San Francisco Syndicate in December, but that was wishful thinking. I am learning to write my books faster, but I think this one will come out around next August. A year isn't too long to wait!
Getting into a new novel can be tough. For me, it's like looking for a secret door. I may have a good idea of what the story will be about, but I still have to find my way in.
This applies to sequels as well. After I finished Bodacious Creed and the Jade Lake and got it to my editor, I wrote a detailed outline of Bodacious Creed and the San Francisco Syndicate, and still, I've been having a tough time finding my way back in!
Last night though, I got it. The beginning of the book came to me and now I'm excited to crank out the first draft.
If you have a tough time getting into a story you want to write, I suggest typing up or penning various scenes to see what works. Even if none of those feel right, there's a good chance your brain will get the message and your subconscious will provide the way forward.
Sale
Bodacious Creed: a Steampunk Zombie Western is just $0.99c now in digital formats and will be for the foreseeable future. Bodacious Creed and the Jade Lake is $0.99 until August 14, 2021, when I'll raise it to its regular price, so get it soon!
"There is nothing to writing. All you do is sit down at a typewriter and bleed." – Ernest Hemingway